I'm more Bridget Jones than Cinderella, more likely to get soaked in a puddle than dance the night away in delicate glass shoes.
I'm more Bridget Jones than Cinderella
However, this not-so-posh Miss did her best to get ready for the ball this weekend on a small budget and without mishap. I (mostly) succeeded. We wont count sticking my finger through the first pair of 'ladder-resistant' stockings and a disastrous attempt at instant tanning.
Generally, I prefer one-of-a-kind items made by small designers over recognisable big labels. I find you get value for money without going cheap. More importantly, there's no fear of someone else having the same piece. When it comes to accessories, it's
Etsy
all the way and of course,
my own handmade jewellery
. I do beauty on a budget, choosing carefully what to splurge on and so spend my hard earned cash supporting fellow Irish Etsians and small local businesses where possible.
honey, a reviving face mask
Looking a bit wilted, I first needed a reviving face pack to perk up my wintry skin. Having tried and tested all sorts of promising products and natural recipes over the years, I swear by sweet and simple honey. Just spread a little bit of it on your make-up free face, avoiding the eye area, and tip of the nose (for drips). Leave it to work for 10 to 20 mins before you jump in the shower. It's like an instant refresher facial that plumps out the skin and puts the life back into it. Brilliant if you've skimped on beauty sleep. As well as delivering minerals and moisture, it is mildly antiseptic; good for spot-prone and oily skin as well as dry or tired complexions.
The previous day I had exfoliated and polished the rest of my skin with a mixture of sea salt and honey from the kitchen cupboard. Granted, despite all that, I still had the fore-mentioned mishap with instant tan, and had to make do with a tint of bronzing make-up.
Supporting local and/or small businesses as ever, I had my hair and nails done nearby at
New Look Hair And Beauty Bar
, on Clanbrassil Street. This is a small but growing business that is much more than your average local hair and beauty salon. Away from the city centre bustle, tucked on a corner in Dublin 8, it is run by Trish, an astute business woman who really understands customer service. I'm a little dance-dishevelled by the time of the photos, but loving this modern, messy bun, creatively done by stylist, Raissa.
Like many crafts, jewellery making and especially wire wrapping, spells disaster for a girl's nails. Trish did a massive job getting my short talons to look decent in just 15 mins with a file and shape and Shellac polish for €20. As I was going almost head to toe in black, I chose a colourful magenta to match my eyeshadow and scarf.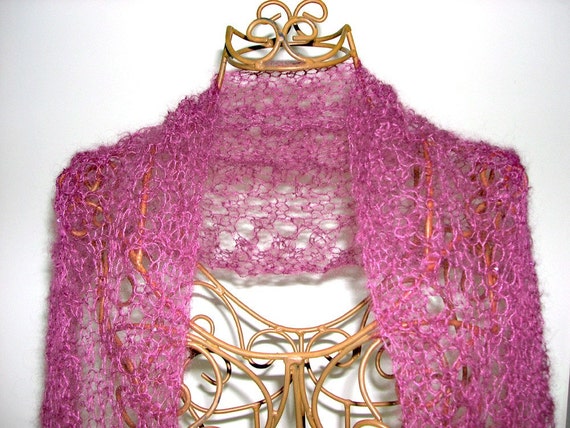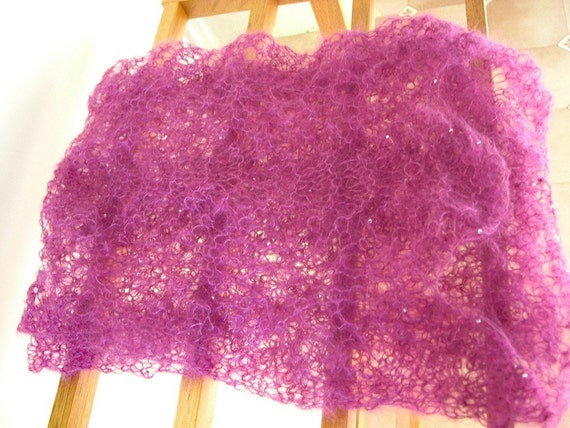 The super soft
kid-mohair and silk scarf
was delicately knit by my Etsy pal, Brigitte, owner of
Purls of Colour.
It is soft and wispy like a silk cobweb. You can't see them well in the photos, but there are tiny silver seed beads woven into the ends of the scarf. People often mistakenly think a handmade item is or should be cheap. But a lot of time and effort goes into creating quality handmade goodies. If well made like this, it should last longer than the mass produced alternatives. A scarf of such quality and softness was a steal at €54.
In these 'recessionary' times I wasn't about to blow my fun money on a new, floor length dress that I will probably never wear again. I had this Ben De Lisi number in my wardrobe since last year. It matched my main criteria, i.e., after Christmas, it still fits and the lines skim over the bumps! Saved me from resorting to Bridget Jone's style knickers! (BTW Photo apologetically borrowed from Debenhams where I bought the dress.)
These are two dresses I really would have loved to have and wear: the flattering panelled dress by
Belinda Sullivan
is on my wishlist or, if I had the figure for it, the Gatsby-style lacy number by
Alice Halliday
. Both designers are local and found on Etsy.
My jewellery was, naturally, made by myself. The onyx earrings are almost identical to
'Midnight in Dublin
' available in my shop, except my own pair are a tiny tad shorter. The necklace started out life as a bracelet but I converted it to a choker with a length of double link chain.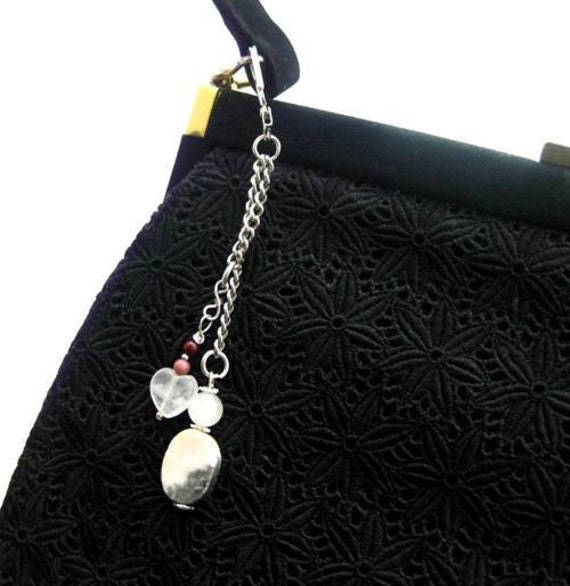 My bag is a vintage little gem that I picked up a couple of years ago from
Jelly Tottlers
. When it comes to bags, I simply adore vintage, especially one in a quintessentially 50s or 60s shape. 80s can be fun too but I can't believe I am old enough to have lived through an era that is now considered vintage.
All girls know there's an art to squishing all you need into a small bag. This one fits a few mini touch up products, lipstick, perfume, keys and phone but I also had to squash in my camera. The inner pockets are zipless pouches and my wallet simply wouldn't fit.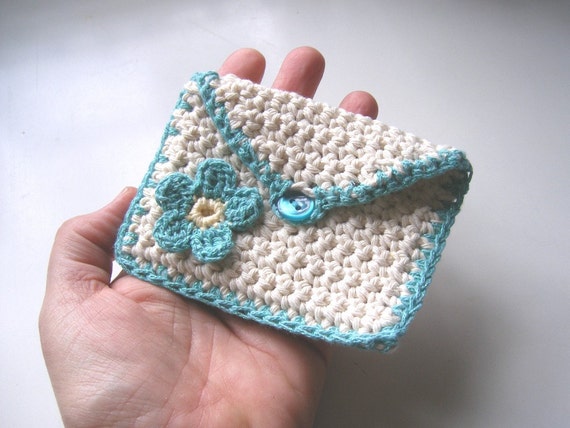 slimline petal purse by HuggleKnits.
Then I remembered a small crochet purse that another Etsy friend had given me. This petal purse by Mo of
HuggleKnits
is super slimline and flexible enough to squidge into an evening bag.
So that was me done. And despite the rain, I didn't get soaked in a puddle. Nor did I meet Colin Firth, but that would have been an entirely different kind of blog post...
***
Related links: