On Saturday I went along to a small meet up of fellow Irish craft workers in Dublin for a good chin wag and exchange of ideas. We also traded a few surplus supplies with each other, which was fun. I just thought I'd introduce the shop of each member who attended by showing off my favourite item from each one.
Valentines day egg cosies
Mo of
Huggle Knits
kindly organised the meeting. Though she can turn her hand to several crafts, Mo mainly knits and crochets gorgeous, handmade accessories for children and adults. Her latest range of cute egg cosies are simply adorable.
Patchwork ball with rattle
Fi of
Patchwork Delights
also attended. I have bought at least two of these patchwork balls as gifts for my friends' babies over the last couple of years. I can vouch that the hand stitching is tiny and so neat!
I was very pleased to make a new acquaintance in Margarita, of
Linen Artisan
, who hails from Spain. I spent over 7 happy years in Spain in the 90s and it was refreshing to chat (in my rusty Spanish) with her about her country. Margarita makes beautiful linen accessories for the home and also bags. I love the colours of this cottage chic lampshade.
Plum ribbed shrug
Hazel Donnelly's soft hand knits are available in
Hazel Donnelly
and she also sells some great supplies at
The Irish Knitting Room.
Though I have my eye on the unusual buttons available in the latter, I prefer to highlight her handwork.
Lastly there was lil' ol' me. I was going to post something typical of my work to illustrate my shop, perhaps something in
Connemara marble
. But then it occurred to me to actually ask myself what my favourite item from my current stock was, something I'd never really considered before. Hard to know when you have a large inventory of 60 items or so and you are biased about your own work...gotta love all your creations equally, right??
And yet the answer was staring at me within seconds of looking at
my home page
: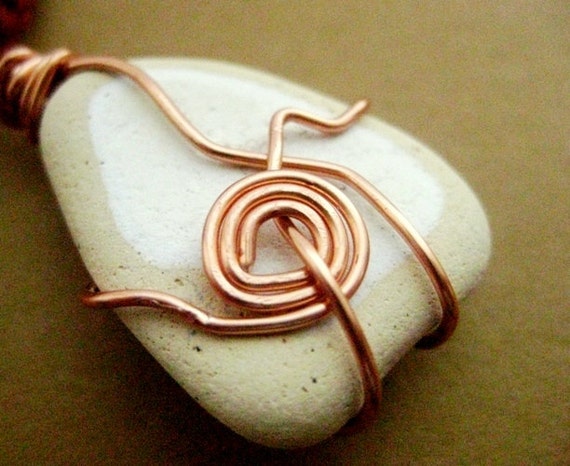 Irish Copper & Sea pottery Pendant