Some friends have mused whether it is truly a
Christmas
star as the hexagram is actually the
Jewish Star of David
. Yes this is indeed so, and by the way, this form is also known as
the Star of Bethlehem
. Up until now, to me a star was a star no matter how many points. Intrigued, I decided to do a bit of research. (I checked out several resources but I mainly link back to ol' Wiki as a fairly neutral reference source.)
mini Connemara marble star set (SOLD OUT)
Yes indeed, the 5 point star (above) is frequently used for Christmas ornaments. This star has two points at the bottom, not one.
And yes it is true, the 6 pointed hexagram is the Star of David, but the form is not exclusively Jewish. This shape is also found in art across several religions, particularly in Eastern cultures and to some extent, Christianity. This religious painting featuring the 6 point star can be seen at St Nikola Church,
Madeconia, Europe
, for example. The hexagram star is also featured in the ceiling at
Washington National Cathedral
.
Historically, in paintings of nativity scenes, the Star of Bethlehem was mostly depicted as either a comet (a ball of light with a trail behind it) or more stylised, in the hexagram shape, with the trail of light shooting down to earth from the point at the bottom.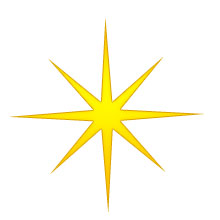 8 point star
Somewhere along the way it even became an 8 pointer! And this latter is very commonly seen atop our festive trees today.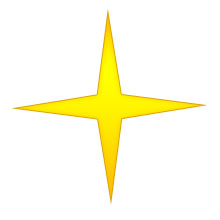 4 point star
And just to confuddle things further, let's not forget the simple elegance of a 4 pointer, featured frequently in the nativity scene on modern greeting cards.
drawing a hexogram is easy
To me the Hexagram seemed a perfectly natural shape for a Christmas star even though the one we had on our tree growing up was definitely a simple 5 point and my current one is in fact, an 8 pointer. It dawned on me then that as a small child, when learning to draw the nativity scene and make Christmas cards, I was taught the hexagram. I've also seen my 5 year old niece do the same. This is hardly surprising as it is probably the easiest way to draw a star, especially for a child. You just draw a triangle first and then an upside-down one on top.
I conclude that anything goes when it comes to a modern Christmas ornament. A star is still a star and to question it might be a bit.....well, pointless.......
Click here to view my Irish Christmas ornaments on Etsy
Click here to view my Connemara marble jewellery