Crystal, rhinestones and vintage glass earrings are back in vogue in 2014. They are all over the catwalks and cheaper, diamante or other glass versions are available on the high street.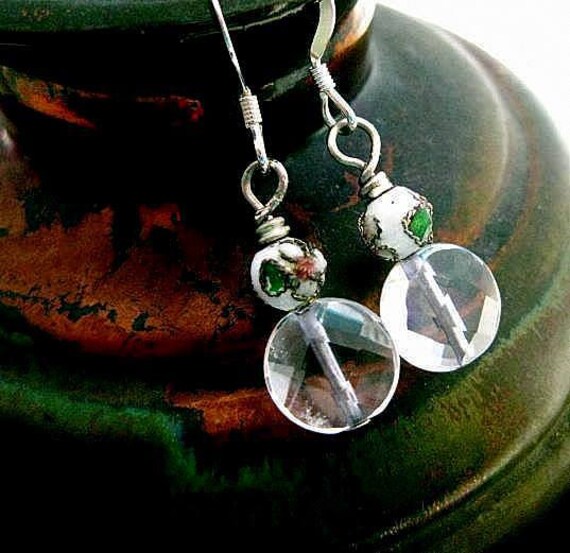 clear crystal quartz earrings
Still on my Downton Abbey vibe, but not a fan of too much glitter and sparkle, I've taken my own spin on the style, matching clear quartz crystal stones with lacquered enamel. Much of the Earth's crust is made up of quartz. This comes in many varieties, the most commonly found
including amethyst and rose quartz.
Clear quartz is also known as rock crystal. It is transparent and very beautiful. A rock crystal cluster is often similar in appearance to icicle structures. This glass-like rock has long been used in hard stone carvings. The
Lohair crystal
on display at the British Museum has been dated to between AD 855 to 869.
figurine of a child in clear quartz c1500 to 1200 BC, credit Walters Art Museum
The Anatolian figurine of a child was carved in Rock crystal some time between 1500 and 1200 BC. (Acquired by Henry Walters, 1929 and on show in the Walters Art Museum, USA)
Newgrange. Photo sourced on Wikimedia Commons
Clear quatrtz has a long tradition in healing, believed to help all ailments, to aid meditation and to bring clarity, awareness, a sharper mind and to dispel negativity.
In Ireland, clear quartz was used in prehistoric times to carve weapons and artifacts and is found in ancient passage and tomb burial sites such as Newgrange, which at more than 5000 years old predates the pyramids. (See my previous post Winter Solstice Pendant inspired by Newgrange.)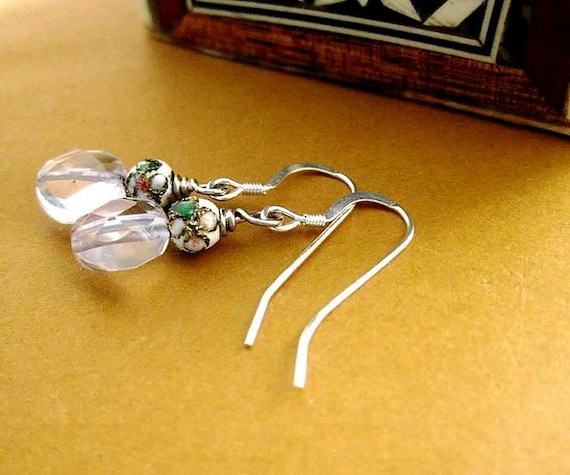 I chose rck crystal for my vintage style earrings for its timeless style. I wanted to include other references to early 20th century jewellery. Lacquered enamel was very popular in the early 1900s through the twenties. for decorative home ware, trinket boxes and also jewellery. These small, 3D enamel beads feature a floral pattern.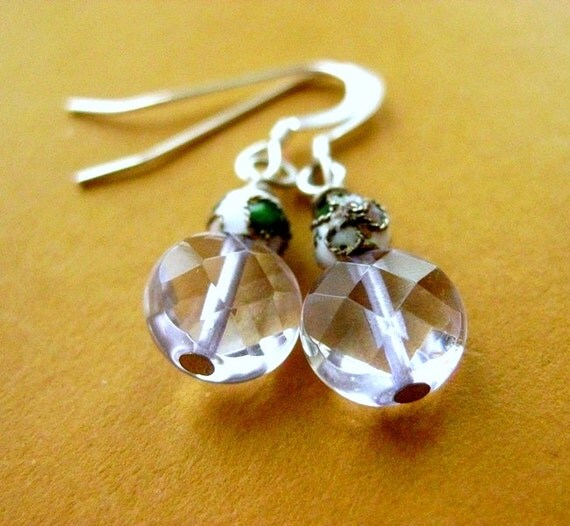 My poor photography cannot do these earrings justice. I have been unable to capture the clarity and sparkle. Suitably named 'Ballroom' these elegant beauties will make you the belle of the ball, no matter what the occasion.