Recently I got to go beach combing again for the first time in a few months. As we hadn't had many storms in Dublin, with unusually sunny weather, there wasn't much treasure washed up on the shore but I did get a few beauts.
Irish sea glass and sea pottery, Dublin 2014
The big piece may say 'Riverview' but as it is not that buffed by the sea, it is not the most interesting shard to me. The blue and white, flowery triangle is perfect for a pendant but I will have to work out a very light wire wrapping design so as not to cover too much of the pattern. The old and gnarled green sea glass at the top is screaming out to made into a rustic keychain.
However, the creme de la creme is the white piece of pottery near the front with the trademark on it.
Arklow Pottery ironstone mark on sea pottery
This is clearly an
Arklow Pottery
mark. You can just about make out the words 'Made in Republic of Ireland. Ironstone.' Founded in 1934, Arklow Pottery is very well known here. Most of us grew up eating off Arklow pottery crockery and milking our tea from Arklow pottery jugs. Sadly, the company was eventually taken over by
Noritake
only to cease production in 1999. But Arklow is still an old staple in many an Irish kitchen. If you've got a few of the older pieces, hold on to them as they are becoming collectors' items.
Ironstone was a type of hardy ceramic that was developed for mass production in the early 1800s in Staffordshire, Uk. What was different about it was its iron slag content. The first potter to coin the term 'ironstone' was Englishman, Charles James Mason, but he was not the only manufacturer to produce this type of delph.
I'm off to research a little into Arklow Pottery trademarks to see can I find out more about this piece.
In the meantime, if I've sparked an interest in beach combing for sea pottery, you might like to learn a little about it so here are a few older posts to help: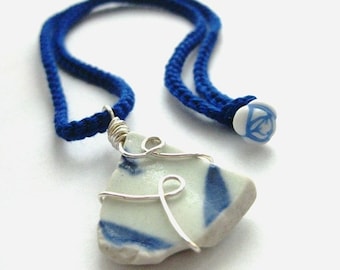 'Sea bird' Irish sea pottery pendant, blue &white