Although my Irish jewellery is contemporary in design, much of the inspiration comes from the ancient Celts or traditional folklore.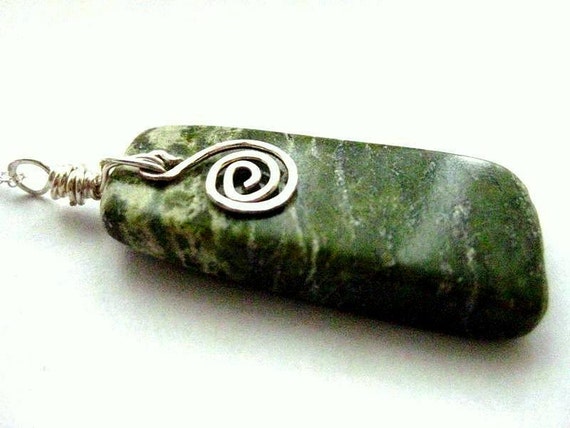 Lir pendant, Connemara marble with sterling silver swan charm, Handmade by Amo'r
An idea was tucked away at the back of my mind to make a pendant inspired by the Irish legend , 'Clann Lir' or 'The Children of Lir' as it is called in English. I knew it had to involve indigenous, Connemara marble and sterling silver.
LEGEND OF THE CHILDREN OF LIR
True of many an Irish tale passed from generation to generation, there are several variations of this ancient story.

As one version goes, Nobleman Lir and his wife Aobh had 4 beautiful children, a girl named Fionnuala and 3 boys. Aodh, Fiachra and Conn. Tragically, Aobh passed on too soon and the young children were left without a mother. Aobh's father, King Bodb, wanted to keep Lir content so he sent his other daughter, Aoife, to take her sister's place.
Aoife soon grew jealous of the bond shared by her step children and her new husband. She contrived to have the siblings killed but her servant refused to carry out the ugly task. So instead, Aoife magically turned them into swans, bound together by chains of silver and doomed to swim the lakes and seas of Ireland for 9 centuries. She gave them one gift, singing voices more beautiful and enchanting than that of the lark. The spell would only be broken if the silver chains broke at the toll of a sacred bell
Eons passed and the child swans survived many adventures, battling the waves of the ocean and beating the cold of the deep lakes. They became famed for their charming singing. Eventually the four found solace at a peaceful monastery. However Deoch, wife of the King of Leinster, wanted to take possession of these beautiful swans so they could sing to her and her alone. She demanded her husband capture them.

During the melee to grab the birds, the monastery bell tolled. At that very moment, the sharp blade of a sword accidentally severed the silver chain that bound them. In an instant, the spell was broken but the children were shocked to discover they had lost their youth and were almost 1000 years old and very withered. No time passed before they moved on to the next world. There however, they were happily reunited with their beloved parents.
hand formed silver spiral
Swan Spiral Charm
Recently I stole a quiet half hour to form a few Celtic spirals from solid sterling silver wire. It occurred to me that the shape can turnout swan-like, if the loose end is left long and graceful. To remain true to a Celtic spiral shape, the charm does need to remain fairly rounded, however.
hammered silver, spiral swan charm
A few strategic taps with a
chasing hammer on an anvil
perfected the shape while hardening the metal. I then used the round end of the hammer head to add bevelled texture, which catches more light.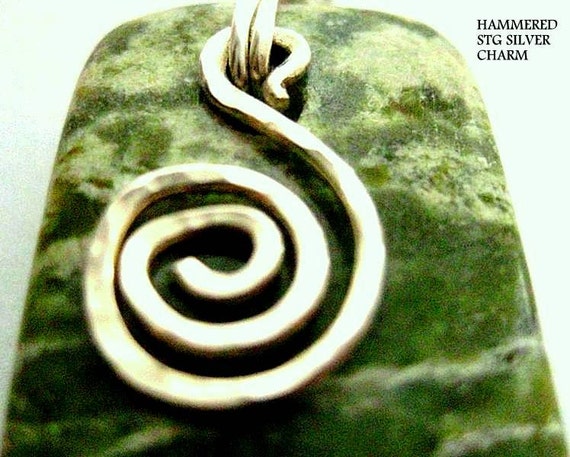 A swan is born! I wire wrapped the charm onto this gorgeous, one of a kind, slab of Connemara marble, cut by a Galway mason. Occasionally I hang my pendants on velvet or crochet chains. In keeping with the legend, Lir pendant could only be hung upon a silver chain.