Thank you to Molly of
MollysVintageJewelry
for inviting me to contribute to the series
Eyes Open Ireland on the Etsy Ireland Team Blog
and for posting my photos today. This is a series where team members send photos of their favourite, inspiring places and of scenes that fire their creativity. It's one of my favourite slots on the
team blog
.
Click on the photo above to hop over to the team blog and see the article and more of my photos. (This photo is of street art on a wall not too far from where I live in Dublin. No wonder I use a lot of Celtic spirals and swirls in my jewelry as I pass this several times a week.)
I noticed that Molly hasn't even mentioned herself or posted a link to her shop on the article, yet she is the volunteer who goes in search of team members to feature, communicates back and forth, sorts the final arrangement of photos, and sends to one of the editors, Lily of
Petal to Petal
or (newly volunteered) Karla of
Nicobel
who then post it up. Thanks to all 3 girls for your efforts.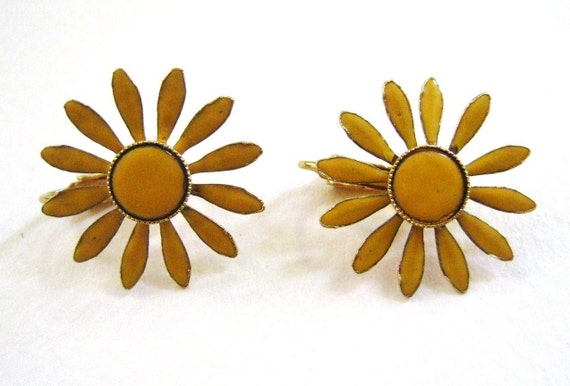 So as a thank you, I'm showing off my favourite item from Molly's shop. I know very little about vintage jewelry, but these cool
yellow daisy earrings
look very 60s to me?? I love them!