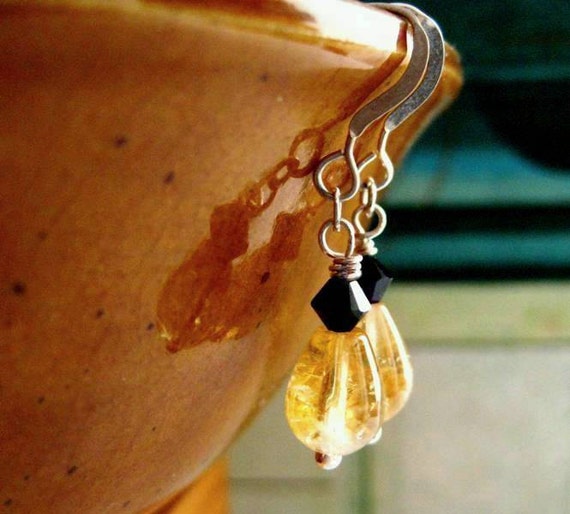 Honey Bee, yellow citrine & onyx earrings
'Honey Bee' earrings were partly inspired by their namesake, but several ideas were in my head when I chose to put golden sunshine citrine teardrops together with black onyx bicone stones. The result was an elegant pair of earrings that, although made with modern wire wrapping techniques, have a classic, vintage feel.
This is the mood board I had circling my thoughts:
Pantone 2014 fresia Honey bee
Yellow is a super hot trend for Spring/Summer 2014, on its own or found in geometric prints with dark or royal blues, black and/or grey.
courtesty Wikimeida Commons
Golden jewellery has also been creeping back in of late. I tend to stick to silver and copper so the citrine stones presented another way to introduce a touch of gold without using actual gold or golden coloured metals.
yellow gorse
Much of the Irish countryside is covered in yellow gorse. I took this photo out walking in
Bohernabreena lakes
on St Patrick's Day and decided to dig out the yellow citrine stones from my stash the next day.
I've used similar citrine teardops in earrings before, but on their own, not teamed with any other stones and never with black.
Sam Sparro Black and Gold.
However, I went to see a cover band this month and 'Black and Gold' was one of the numbers in the mix. I neither love nor hate the track, but it got stuck in my head for 3 whole days, which began to grate on my nerves..but hey, inspiration comes from the strangest sources sometimes!