Lough Tae (aka 'The Guinness Lake') Wicklow Own photo
Much of my jewellery is inspired by Irish landscapes. Though we are famed for the lush green of our countryside, for such a small country, we do have a wide range of scenery to lift the soul. Much of the midlands and East of the island are covered in bog made of peaty soil. Peat is mostly rain water mixed with solid material: ancient bark and plants that decomposed over thousands of years. The result is a reddish, cocoa brown earth, often dotted with colourful plants including white bog cotton, purple ling heather and moor grass, green and brown mosses and a variety of hardy yellow flowers.
Here are a few typical examples of my jewellery together with the places that fueled the passion to make them.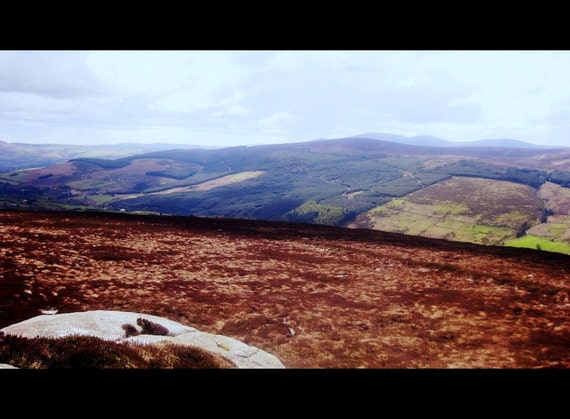 Ticknock, Dublin. Own photo
Ticknock
on the outskirts of Dublin was the inspiration for this scenic jasper and copper necklace: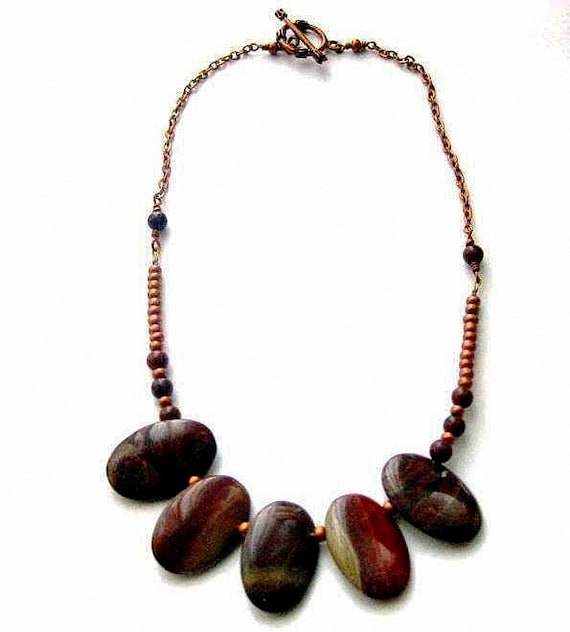 'Dublin Hills' scenic jasper and copper necklace
The smooth jasper evokes the rich hues of the countryside. The stones display a stunning array of shades in cocoa bean, russet, coppery reds and chocolate. There is even a touch of sand and grass in the mix.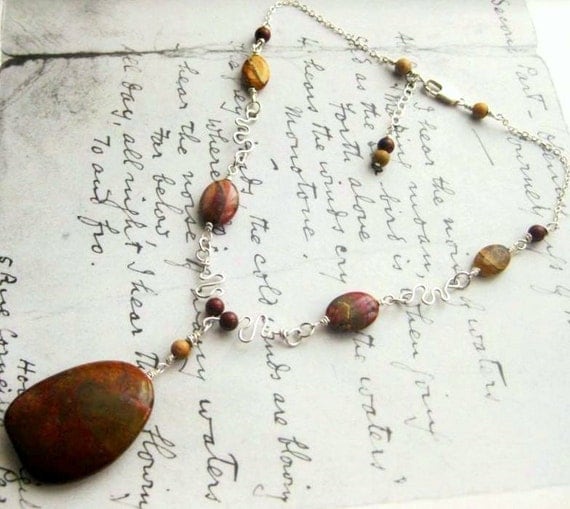 'Nature' jasper gemstone necklace
'Nature' necklace was also inspired by the peaty soil of the Dublin and Wicklow hills where I go hiking, and especially by the chestnut brown water of the bog streams and lakes.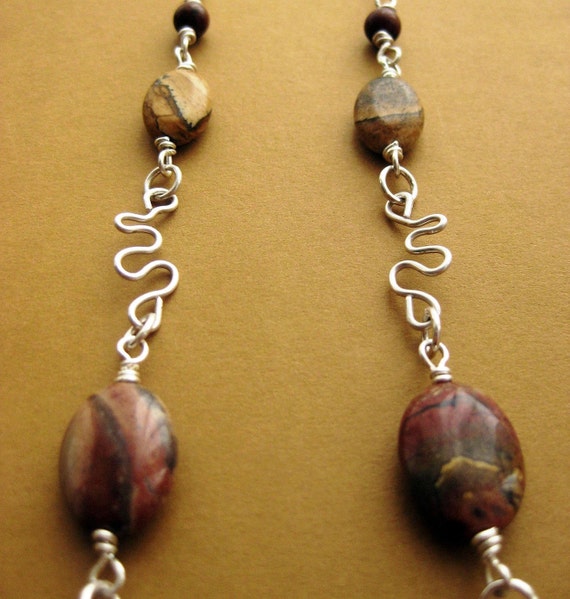 The sterling silver wire work represents the flow of a river. This was done freehand with a simple round-nosed pliers, not with a jig. Then I hammered the silver to make it rigid.
Lough Dan in Co Wicklow, own photo

peat-stained water of Lough Dan
The water in many of our lakes is as brown as a pint of good ale, or even as dark as a Guinness. The water is clean, just stained by the peat in the soil.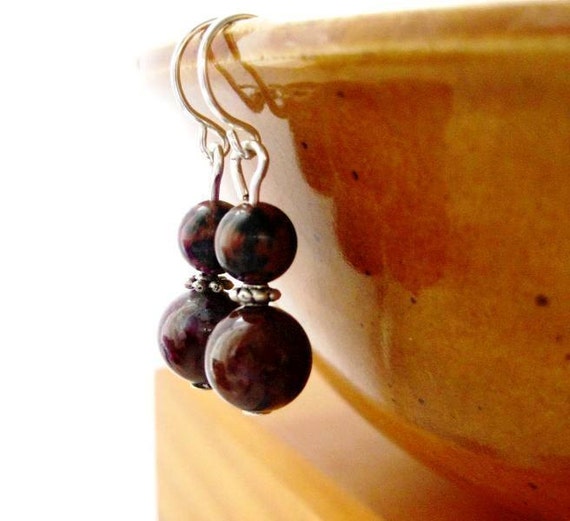 'Chocolate drop' earrings were also made with the bog in mind. The rich cocoa of the mahogany obsidian stone is very peaty. When I was making them I remembered the big bags of peat moss my dad used to buy as a soil conditioner for his vegetable patch.
Let's not forget though, that Ireland is the Emerald Isle and you will usually find a lot of green,
Connemara marble
in my collection too.
Powercourt waterfall
Read more about nature-inspired pieces by clicking
HERE