The region of Connemara
is an area of natural beauty in West
Connaught
, Ireland, namely in West County Galway. It is only here, in this unspoilt land that Connemara marble, described as our national gemstone, is found.
Connemara marble is an extremely rare and beautiful stone. It has been mined and carved for centuries. This stunning green stone is over 600 million years old. (Here comes the science bit...) It is a metamorphic rock made up of recrystallised particles. (Ok, that is about as much science as you are going to get out of me but I did find this more technical
info online
.)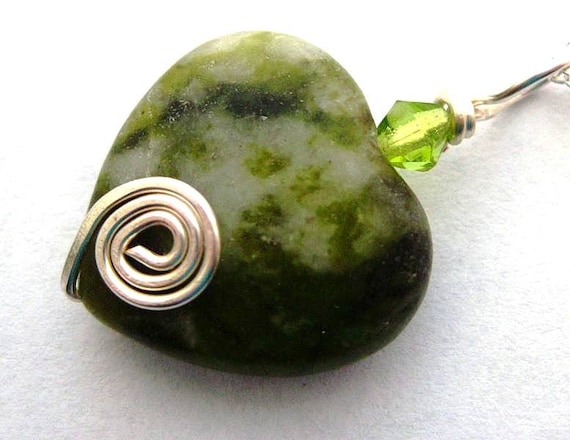 Love Spirals pendant, Connemara marble with Swarovski crystal




It is a hard and durable stone that can take a high polish. Considered to be the world's rarest and most exquisite, true green marble, it comes in a wide range of tones from pale, grey-sage to darkest forest green, with every shade of lime and leaf in between. On occasion a yellow ochre specimen can be found. It is highly variegated so it is not unusual to find several contrasting hues in a small piece of the gemstone.
It is also used as a durable, aesthetic building material not only in Ireland but around the globe. Famously it can be seen in the
Chapel of St Patrick and the Saints of Ireland
at Westminster Cathedral, London, for example. Here, in Dublin, the
reception desk at Leinster House's new pavilion
is topped with a fine example of sleek, Connemara marble.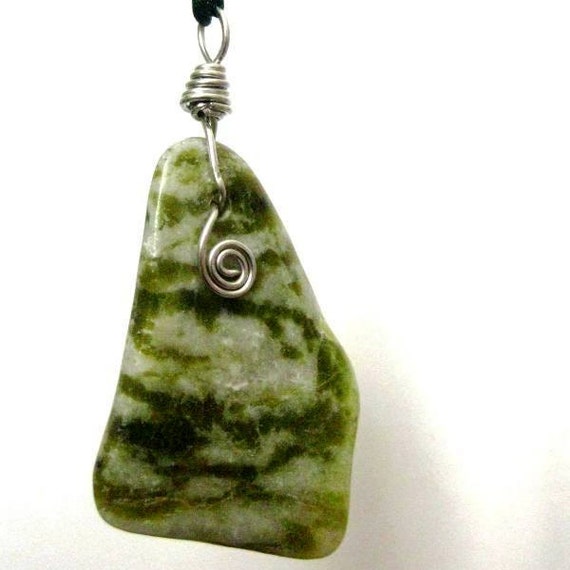 Irish pub ornament or Christmas decoration, Connemara marble
When I started out beading and wire-wrapping, I never expected to be using Connemara marble among all the other exotic stones I found. I am so glad I discovered its unique beauty and am proud to use this and other, unusual, indigenous Irish materials in my work.