Irish Connemara marble
is not the only local material that comes in 40 shades of green. Though seaglass plucked from the shore is most often found in bottle green or kelly green, it also comes in a variety of rarer shades. Some of them are truly beautiful. Here are some examples of what can be found. (Tones may vary slightly from monitor to monitor.)
Bottle green seaglass








Bottle green is fairly common alongside kelly green. Both these shades mostly come from old wine and beer bottles. Coloured glass was and is still used to filter out light that can deteriorate beer. Green was used less often for beer bottles from circa 1930 as it was discovered that brown glass does a better job of keeping out the light.
Nowadays, beer doesn't generally stay in the bottle that long (and we have better storage and refrigeration) so green and clear bottles have made a comeback. Though common, kelly green can be exceptionally vibrant and makes beautiful jewellery. (readers from this corner at least should understand when I say..Probably the best green in the world....)
Irish sea glass pendant,

Ocean Moon
This
dark, forest green piece
is one of my favourites. The colour is exceptionally deep and rich and the glass itself is highly frosted. This tells me it is probably one of the oldest pieces of beach glass I have found. It can take 100 years for seaglass to develop a thick frost with decent white speckles.
Lime is one of the rarer, more valuable colours in seaglass. This one is a pale, citric shade but I have found deeper lime and more yellowy versions in the past. This one really does look like lime jelly.
Olive Seaglass
Olive seaglass is less common than bottle or kelly green but not as rare as lime or teal.
(sold)
Teal is my favourite colour. Teal seaglass is a fairly rare find. It can come in dark or paler tones.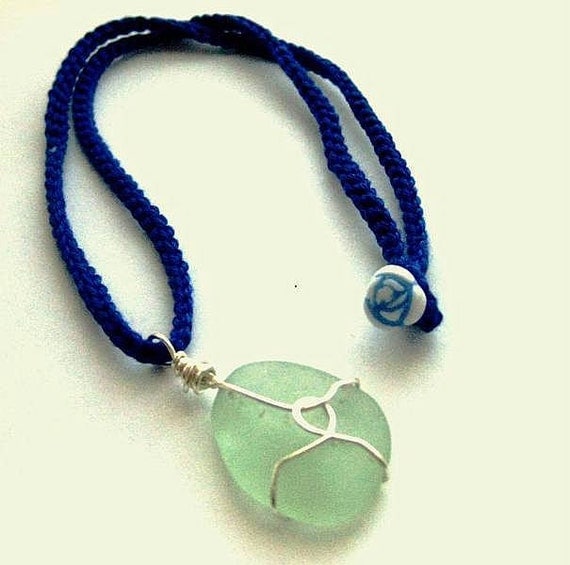 sea foam sea glass pendant, Seascape
Seafoam isn't an obvious green. Bluer versions can be found. This piece,
Seascape
, has a hint of pale apple in in it, though it is technically aquamarine.
Here are a few more samples. right to left: 2 x blue-green teal, yellow lime, bright kelly green, neon lime, dark olive and in the centre; forest green. (There are alternative names for some of these shades.) Blue and blue-green shades are rarer than most greens, though the neon lime and yellowy lime are prize finds indeed. If you find a specimen in either shade, lucky you!
To learn how to clean seaglass click HERE
To learn how to clean seaglass jewellery click
HERE
For a crafty idea for small pieces of seaglass click HERE