On a recent beach combing expedition I came across a big, thick lump of, black sea glass. It is reeeally dense, and you'd be forgiven for thinking it was a simple stone but I am 100% sure it is glass. (My photography has not captured it well.) It is much more obvious to the naked eye, especially when you look into the crevices and flaws.
Not too far away I found a smaller piece, just as dense. I actually thought at first it was a stone and almost threw it back.
But once I washed and dried it I could tell it is definitely glass. However it too is extremely thick and dense. Even held up to the light, very little light gets through.
When I ramp up the colour on these pieces of 'black' sea glass, I can almost see a green 'aura'. I'd been told all black sea glass is actually dark green.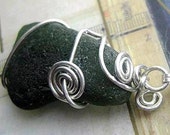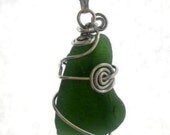 I do have other pieces that are extremely dark green, but you can still easily tell they are green, especially when held to the light. The piece above is a very dark forest green that in some lights looks black. The minute you let light through it you can clearly see its true shade (ref the pic on the right)

I've done a bit of research and learned that 'black' sea glass is extremely rare, up there in the rarest category with peach, pink, red, deep yellow and deep purple. So I'd found a true piece of treasure reclaimed from the sea. Though this type of sea glass appears black, it is in fact much older, dark olive green. The pieces I found are also quite thick and dense. I suspect they are from the heel of a heavy bottle or vessel of some sort.
Both these pieces are highly frosted and leeched, further evidence that they are very very old. It can take well over 100 years for a piece of glass to get to this level of frosting and it can only happen in the sea. It cant be faked in a tumbler.

Dense, black sea glass in this condition can be a few hundred years old...apparently pieces dating to the 17th century have been found. I wonder just how old these pieces are, what they were in their previous life and did they originate here in Dublin, or fall from a merchant ship perhaps? If glass like this were found in the US it would quite possibly be from illicit rum bottles dating back to prohibition days. Here in Ireland, who knows... as a former employee of Guinness I'd love to say they were from ancient bottles of Guinness, but unfortunately, I have no way of knowing at present.
To Learn How to Clean Sea glass
CLICK HERE