This coming month I shall be attending another Murder Mystery Game, this time set in the 80s! What fun - giant shoulder pads, Lycra, leg warmers, big hair and bright accessories jump to mind! Oh let's not forget the midnight blue mascara! I can't wait to make some jewelry for the party!
from Pretty in Pink (ref You Tube)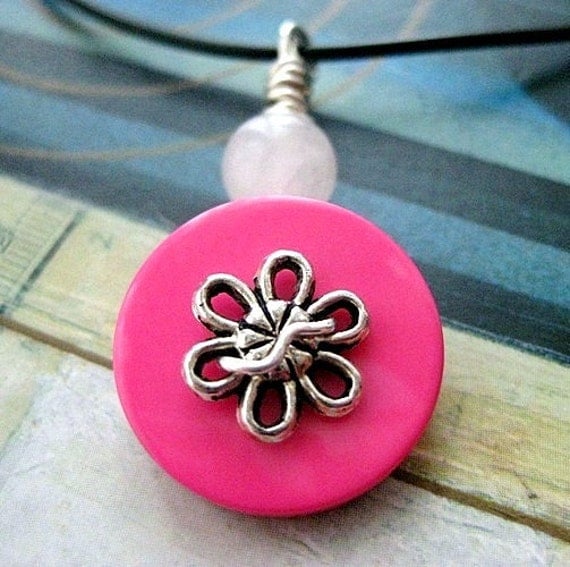 So 80s cerise button pendant
Still, I can't help thinking about 80s jewellery. Growing up in the pre-grunge decade, too much was never enough when it came to bright and colourful accessories. If it wasn't Miami Vice pastels it was blinding neons and let's not forget
CERISE
PINK
....that wholesome fuscia phase fell somewhere between my retro rocker stint and a short (but sulky) dalliance with post-punk; when all-black was the new black, safety pins were jewelry and you couldn't see my chalky face under heavily kholled eyes and the long spiky-top version of the
mullet
. (Pah EMO kids listen up...we did it aaaaall before yiz....oh dear, I'm turning into my Mum., aren't I?)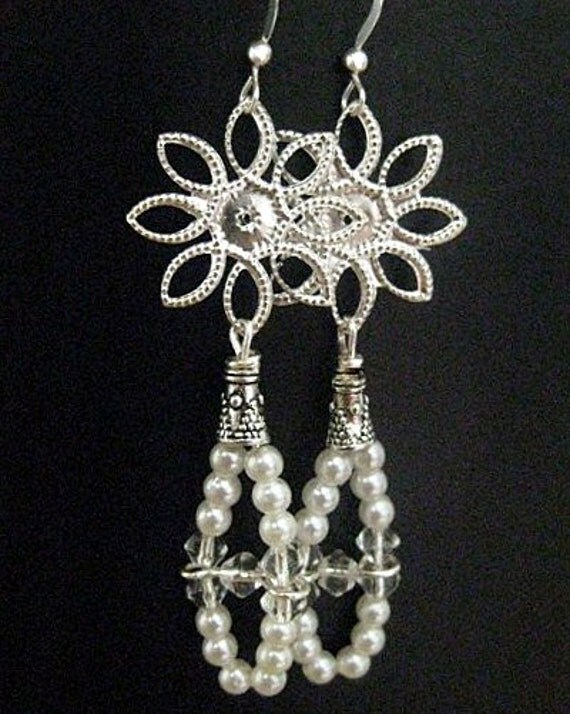 Long pearl earrings, Handmade by Amo'r
At some point, I followed the trend for long strings of fake pearls, knotted in the middle. I had them in pastel shades of yellow, pink, blue, cream....and thought I was the business! These were teamed with long, faux pearl earrings and in true 80s excess, an armful of bangles and bracelets. The earrings shown above were inspired by recently remade
Great Gatsby movie
set in the 20s, but would not have been at all out of place in 1986.
It just so happens I recently made myself this bright, summer pendant for fun. (Big button purchased from my Etsy colleague, Hazel of
The Irish Knitting Room
.) The flower pendant may do nicely for the 80s party.
But yesterday one of my friends said something that hadn't occurred to me at all. What if my character is a man??!! (oh no, please let him be styled like
Boy George
or
Phil Oakey
so I can be creative...anything at all as long as it's not
Don Johnson
from the original Miami Vice! Sorry Don, but I'm not wearing a baby pink suit.)
I will be back with photos of my eventual costume later on in the month. In the meantime if you are looking for costume ideas here are my blog posts about previous Murder Mystery parties I've been to:
1960S COSTUMES
1940S COSTUMES
or 1900s for Bloomsday:
BLOOMSDAY COSTUME