Yesterday I posted about new
black jewellery
I've been making, much of it inspired by
Downton Abbey.
I've been pigging out on the drama series...only to research the fashions, you understand.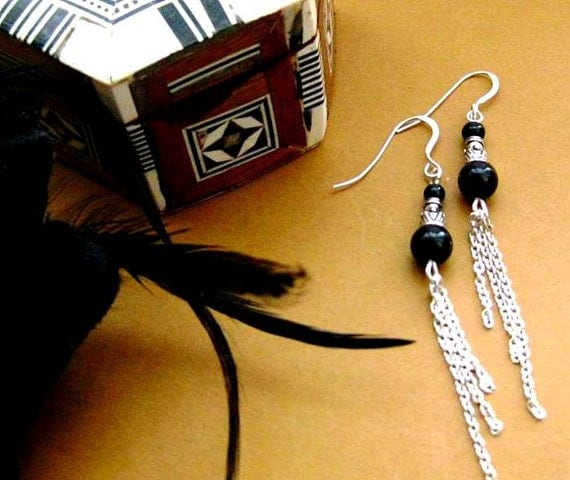 Long black onyx earrings, inspired by Downton Abbey
You see, a friend lent me the DVDS of series 1 and 2 as I had missed many of the early episodes. Over the Christmas break, as a treat for all my hard work in the busy season, I have watched 12 episodes over the course of a week. Some may call that over indulgence...but it's all in the name of research! Really.
There wasn't much in the way of jewellery to see, but the beading and details on the costumes sparked my creativity. After sneaking in another episode of the drama, I made the above pair of long, elegant
onyx earrings.
'Midnight in Dublin' earrings are made with onyx gemstone beads and silver chain dangles. The ornate cones are silver plate. I always use hypoallergenic, solid sterling silver hooks as they are kindest to the ears. These dangle earrings will look stunning with up-dos or short hair.
I will be making a few more pairs in stones of other colours this season as well as listing pearl jewellery also inspired by the first 3 decades of the last century.
Now if you will excuse me, I think I need to do another hour of research.....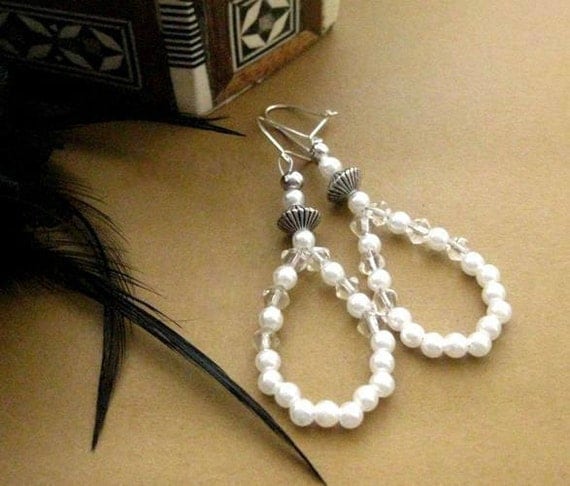 long pearl earrings 1920s style