As we continue with the ABC of Jewellery, we've reached part 2 of the letter
G
. This is a not-too comprehensive guide to jewellery techniques and materials I use as well as design styles and inspirations. A few days ago I posted about
G

emstones, including

G

arnets.
Part 2 looks at
G
lass and the colour
G
reen.
G
lass in its many forms is very popular in jewellery. I don't use every type of glass bead available so I'm going to concentrate on those I do; sea glass, crystals, Czech glass, ceramic and seed beads.
White sea glass angel ornament Wire wrapped sea glass pendant
My favourite is sea glass.That is glass that has been naturally smoothed and frosted over a long period of time while tumbling in the ocean. The salt water leeches minerals, notably sodium and potassium, from the glass. This gives it a semi opaque and icy appearance.
Spot the difference? With a tiny bit of practice, you can spot a fake that has been artificially tumbled as it will be very smooth and evenly frosted. The piece on the right is naturally frosted by the ocean. The difference is clear....or not!
Irish sea glass pendant (sold)
Genuine sea glass will have c-shaped dimples or pitting in the frosting and/or a crusty appearance. The more obvious the pitting, the longer the piece has been in the water. A heavily frosted piece could have been rolling in the sea for as much as 100 years.
'club sauce' sea glass bottle stoppers
Half the fun of working with sea glass is collecting it on the beach. The best time to find sea treasure is after a storm. It can be back breaking but it's worth it when you spot a real beauty like these bottle stoppers. To learn how to clean sea glass and sea pottery
CLICK HERE
(with Connemara marble)
Rhinestones and crystals are also a type of glass. I don't work with the former, but do occasionally like to use European crystal. Crystal are a high quality of glass that give off a beautiful sparkle. Swarovski crystals from Austria are a superior brand famous for their quality and uniformity of size. You may see them described as having AB shine. This stands for aurora borealis, a type of highly reflective, sheen finish. The Swarovksi revoli cyrstals seen above have a rainbow-like effect.
Czech crystal beads are also considered of good quality and can look like gemstones. The blue Czech crystals in
'Yours Truly' earrings
look very similar in structure to the tiny topaz gemstones and reflect the light even better than the little stones do.
Ceramic & faceted glass bracelet Pink crystal fairy
Ceramic and Czech crystal heart Blue Czech glass butterfly fairy
I very occasionally use other forms of glass beads including ceramic and faceted Czech glass, which is not as sparkly as crystal but still reflects the light. Glass in any form can lend lightness and colour to any piece of jewellery.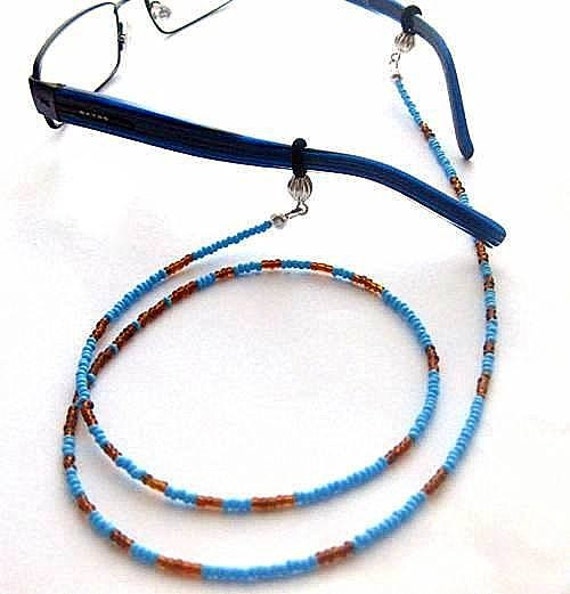 blue and rust seed bead eyeglass chain
Glass seed beads are tiny, usually 2mm to 4mm and are great fun though a little pesky to bead with. I use them as spacers between gemstones, but as they are available in a vast array of shades you can use them for all sorts of beading projects, including embroidery. Tiny glass seed beads are often easier to string, wire up or sew than tiny stones as the hole is usually a tad wider and more uniform. That reminds me
G
is also for
G
lasses and you can hold on to yours with a
beaded eyeglass chain
like this one!
close up of Connemara marble
G
reen is a colour that is usually abundant in my shop because I use a lot of Irish Connemara marble. I've written a few previous posts about this rare, indigenous stone:
About Connemara Marble
Bright Connemara Marble
Up Close and Personal with Connemara Marble
Connemara marble samples
This increasingly scarce marble really does come in 40 shades of green, usually with several tones in the same small piece.
The green serpentine streaks in the limestone marble are caused by the presence of various minerals.
some varieties of green sea glass
Sea glass also comes in several shades of green. I will leave the letter G here and refer to a previous post on the various shades found and their frequency of occurance:
Shades of Green Sea Glass.