On occasion I am lucky enough to find a really old piece of seaglass on the Dublin coast. This is a fairly rare piece of teal seaglass. Teal is one of the less common colours of seaglass but this piece is particularly interesting because it has been extensively frosted and even gnarled by the stormy Irish sea. Frosting naturally occurs over decades in the sea when the salty water leeches soda and lime from the glass.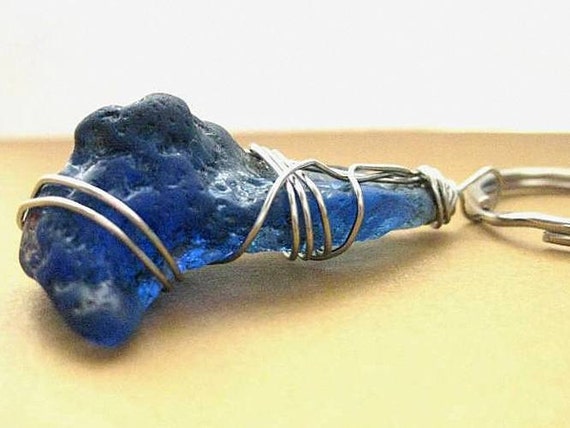 The only other piece I have found in such a gnarled condition is a mottled piece of cobalt seaglass which I also made into a keychain (now sold.) This specimen was a truly curious shape and had an interesting, bumpy texture. It might be end of day waste glass that was discarded by a glass manufacturer, perhaps even in a semi molten state and it hardened when it hit the cold water. (Any more knowledgeable opinions welcome)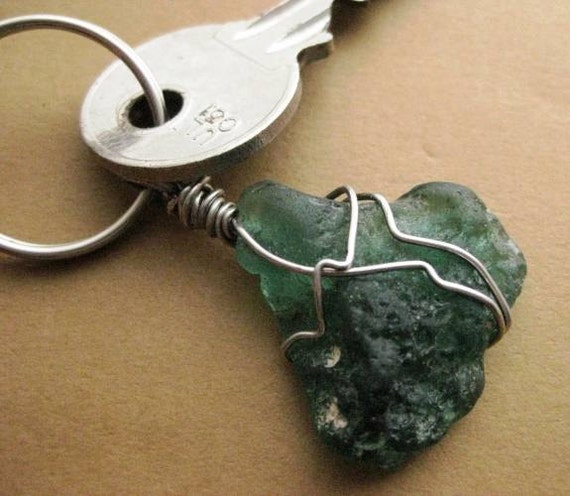 Something sandy-coloured has fused with the teal piece of seaglass in one or two of the crevices. At first I thought it was just impacted sand and after sterilising and thoroughly washing, I scrubbed at it with strong nail brush. I even tried to delicately scrape the residue away to no avail. I realised it was completely fused to the glass and that it is most probably the residue of sea tile or beach-worn redbrick.. On occasion, different materials such as stones, tile, coral, sea pottery, seaglass etc fuse together when they have been compressed in the ocean under layers of deposits.
The piece is very special but not pretty enough for jewellery. I wire wrapped it in silver plated wire and attached it to a key ring. It would make a cool gift for a man with Irish roots and/or a love of the sea. I'd love to see it go to a sea farer of some description.
TO READ ABOUT SHADES OF GREEN SEAGLASS CLICK HERE
TO LEARN HOW TO CLEAN SEAGLASS CLICK HERE