Handmade by Amo'r Etsy store
recently got a fresh injection of green as it was running low on
Connemara marble
and other lush
verdes.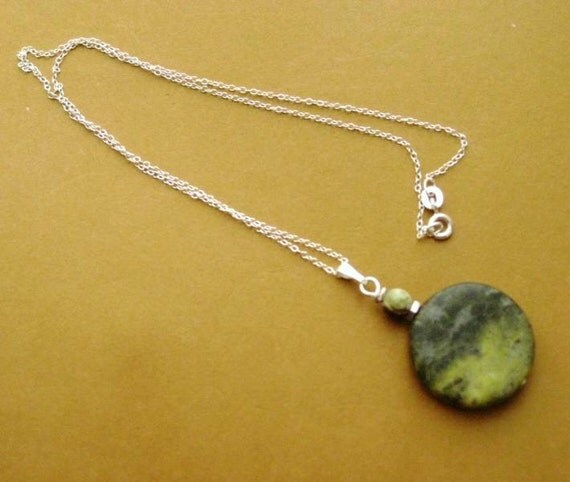 rare, Connemara marble pendant
Found only in the West of Ireland, Connemara marble is unique to our island. This ancient stone is over 600,000,000 years old and comes in a wide range of greens from the palest whitewash, through the limes, grasses and sages to the darkest forest green. Often, you will find several shades in the marbling, even on the smallest specimen. To read a fuller article I previously wrote on this native, Irish stone click
HERE
This is a rare piece of Connemara marble cut into a coin shape. It reminded me of my photo, taken in
Lough Dan,
Wicklow. So when looking for a matching round bead, I carefully selected one with brown veining to gently represent the distant mountains. Naturally, I had to name the finished pendant
'Wicklow'
.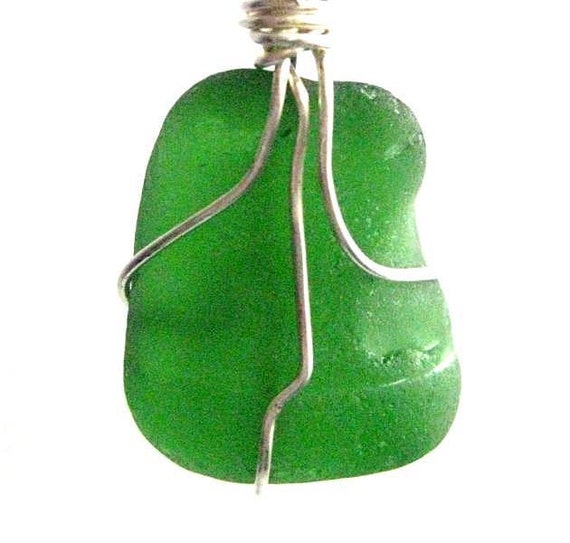 kelly green, Irish sea glass pendant
Bringing in a more intense, kelly green, I also recently listed the above sea glass pendant wrapped in silver wire. Sea glass usually changes in colour intensity according the light source so it can be a bit chameleon-like.
'Ocean Jewel
' is made from genuine sea glass found on a Dublin shore. It is fully frosted so must have been tumbling in the water for a few decades at least. It is part of a bottle neck. I wonder was it beer or wine?
If it came from a beer bottle, then it is quite possibly, close to 100 years old.
(Borrowing from my own previous post about sea glass bottle necks) 'Around 1930 it was discovered that brown glass did a better job of preserving beer and so green glass was discontinued for this purpose. Yes, we use green bottles again today as we have better refrigeration and nowadays beer rarely needs to be stored for a terribly long time at that. However, if this were a modern piece of sea glass it would be smoother, with very little of the tell-tale, crystalline frosting that occurs only after decades in the sea.'
The genuine 'crusty' frosting appears only after a long period of time exposed to the ocean water. It leeches the soda and lime creating the more opaque appearance. While smooth frosting can be faked in a tumbler, the 'C' shaped pitting in the surface cannot. Whether this rim was from a beer or wine bottle it has been in the sea for an extended period.
I'm slowly replenishing my stock of Connemara marble earrings. I try to have a few different styles in
my Etsy shop
at any given time.
And coming soon, something a little bit different....
Connemara marble star earrings