Continuing my ABC of Jewellery, (a not-so-comprehensive guide to jewellery, jewellery making techniques and materials I use, design inspirations etc)

F

is fun and fantastical with Fairies! In terms of materials it includes
F
luorite,
F
eldspar and
F
indings and in design it brings us to
F
an necklaces. Encompassing a huge array of crafting supplies, '
F
indings' will get a post all of its own next.
F
luorite is a semi transparent gemstone. It is the mineral form of Calcium Fluoride and comes in so many hues it has been nicknamed 'the most colourful mineral in the world.' The most common shades are blues, purples and greens, and next is yellow or clear. Often it boasts more than one tone and can have gorgeous banding.
The ancient Egyptians and the Chinese have carved the mineral for decorative purposes for centuries. In the 1700s the mineral was believed to cure ailments of the kidney. Apothecaries would grind the fluorite into a powder to be dissolved in water and ingested as medicine. Please do not try this at home folks!
F
eldspar is a large group of rock forming minerals. Forming approximately 60% of the earth's crust, it is the most plentiful mineral group on the planet. (You can find the science bit HERE on Wikipedia.) The name comes from the German 'feldt spat,' meaning field stone. Seemingly when it erodes, it releases nutrients such as potassium into the soil, enriching plant life.
The feldspar gemstones most often used for jewellery are amazonite, moonstone, labradorite, obisidan and a black tourmaline (schorl tourmaline.)
Of these, labradorite is my favourite. It is a feldspar found mostly in Labrador, Canada and is famed for its blue flash when it catches the light. Metaphysically, the stone is associated with the delaying of aging but let's not tell the skin cream companies.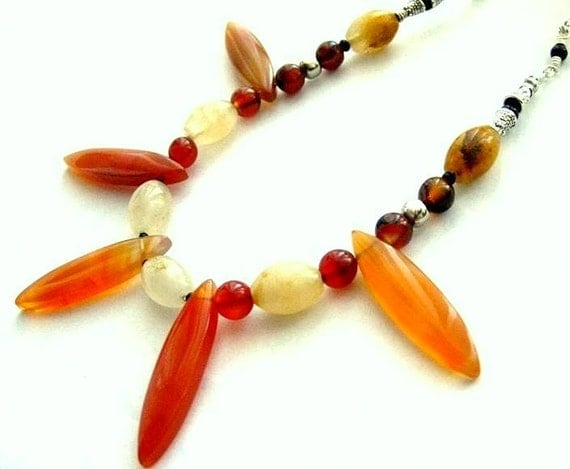 red gemstone fan necklace
F is also for
F
an necklaces, a currently popular style of chunky, statement neckwear and a cousin of the collar neck piece. As the name suggests, it is designed to fan out and is therefore, an excellent choice for breaking up a wide area of skin when wearing low necklines. It also can create a little drama worn over a high, plain neckline. The style has origins in tribal, African jewellery and other ethnic cultures including Native American, Amazonian, Aztec, Egyptian and more. The fan shape in this carnelian necklace is created with petal-like stones, drilled laterally at the top.
Ireland is a land associated with
F
olklore and
F
airies, so they naturally belong in my collection.
You can find 2 types of
Fairies (and/or angels)
in my inventory; larger sea glass ornaments and smaller, beaded charms or pendants.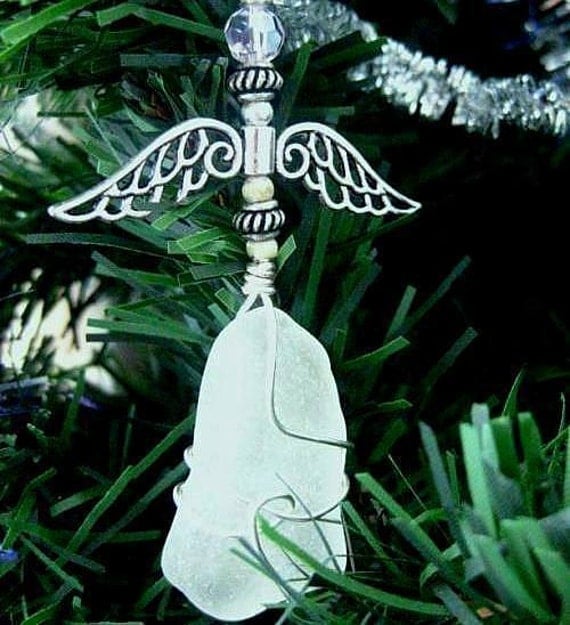 sea glass fairy angel ornament or sun catcher
I wire wrap more unusual sea glass fairies, which are a type of art doll or home decor and usable as sun catchers, Christmas ornaments and large pendants for adults. They are not suitable as toys or as pendants for children but do make pretty nursery decorations to hang out of reach.
Genuine sea glass has been tumbled, smoothed and frosted by the ocean over several decades. I believe the wire work should be just as aesthetic as the glass without
overwhelming it. I have developed my skills to create a style of wrapping that is lightweight and pretty in appearance but very secure. This shows off the glass and makes for very light and airy looking sea glass fairies.
Irish belief in fairies goes back to, at least, Celtic times and is much more complex than our love of whimsy and story telling. I found this interview with Dr Jenny Butler, Folklorist and Lecturer, very interesting from a social history point of view. Be aware, it's not short, so pop the kettle on.
CLICK HERE FOR THE ABC SERIES SO FAR
or by letter:
A B C (plus C for Crimping ) D E