We've reached the letter
E
in my
ABC of jewellery making.
This is a not-so-comprehensive guide to jewellery materials, tools and techniques I use as well as design influences.
E
is for
E
yeglass chains and
E
arrings of course. It is also for
E
meralds (well, of the Swarovski kind) and how could I forget, my Etsy store!!
E
is for
E
arrings and recently I went on a bit of an earring making binge so have plenty of ear candy listed or coming soon. I bead and wire wrap mostly short and medium length dangles though I sometimes have fun with big earrings. I always use solid .925 sterling silver hooks, never silver plate. On occasion solid copper is featured. I have a nickel allergy myself, though can tolerate some plated silver pendants, but my earlobes always know the difference. Therefore I choose nickel-free or hypoallergenic hooks for my customers.
If you are unsure about the metal when buying earrings online always ask the seller first and stick with reliable sellers with good feedback or customer reviews. Sterling silver hooks are usually hallmarked with .925, which refers to the minimum amount of real silver in the metal (92.5%.) Fine silver (.999) is purest. Here is a good
silver purity guide
from Wiki - but don't forget to come back to me! Of course, people vary in the metals that they can or can't tollerate. There are other hypoallergenic and/or low nickel metals such as argentium, surgical stainless steel etc. Sometimes it can be a matter of trying out what works for you as an individual.
Click here a peek at the
Earring Section
of my shop.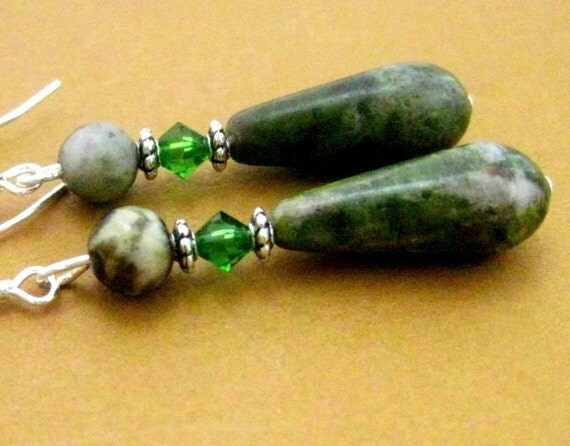 Connemara marble and Emerald Swarovski Crystal earrings
E
merald is a precious stone I'm afraid I do not use. Mostly, I work with semi precious gems, Irish marble, sea glass and pearls (but not the 4 precious stones which are diamond, emerald, ruby and sapphire.) But I do use
E
merald Swarovski crystals and that counts. Right? This rich green and sparkly crystal is a stunning match for Connemara marble.
E
is also for
E
yeglass chains...and the
E
lastic ends on them too, for that matter. From time to time I get a yen to bead one. I fess up I do tend to complicate it for myself by creating a tedious pattern. I say tedious because you need to concentrate hard when beading a pattern, and by its very nature, beading can relax me so much I forget what I'm doing and lose count! More than once I discovered the next day that I'd made a wee mistake and had to start over again. So I've learned never to bead a long string like this above when I'm tired!
I was recently asked to make these special eyeglass chains based on the Emerald Isle itself - or to be more specific, based on the colours of the earthy landscapes of Ireland. The dash of purple is meant to represent heather, which grows abundantly in the bogs and hills. You can read more about this project
HERE.
I shall leave the letter E at the door to my
Etsy Store.
Perhaps you'd like to pop in and see what's new?
CLICK HERE FOR THE ABC SERIES SO FAR
or by letter:
A
B
C
(plus
C for Crimping
)
D