I
've reached the letter
I
in my
ABC of jewellery.
This is a rough guide to jewellery materials and techniques I use as well as designs and inspirations.
I
is for
I
olite,
I
ron ore,
I
nspiration and
I
rish materials.
I
olite gemstone is a form of
cordierite
. It is a transparent, most often indigo or deep sapphire blue stone that can be confused with amethyst. However, if you hold it to the light you can see it is a cold blue and sometimes a bluish violet, unlike the warmer purples of amethyst. The name derives from the Greek 'ios' meaning 'violet.' Specimens in the deeper shades of blue can look like
tanzanite
. Some rare varieties are a yellowish gray or brown. On occasion, like these stones here, a blue version can have a hidden, golden-grey flash that appears unexpectedly like a rainbow in a puddle.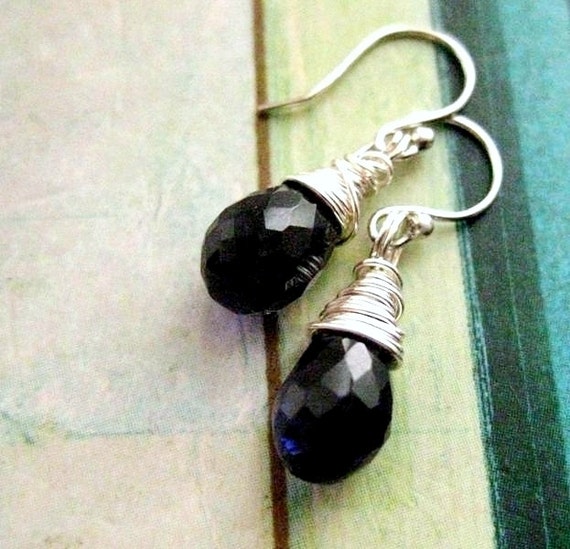 Iolite teardrop earrings, Indigo Sky
I
olite is not very common and though it was popular in the 18th century, it can be hard to find contemporary iolite jewellery. These beautiful little teardrops make a pretty pair of
earrings
. Typically, they will change colour with the light and as the wearer moves about, from deep indigo to paler blue to a very transparent golden-gray.
Metaphysically, iolite is the stone for vision and creativity. Healers believe it treats ailments of the eye as well as insomnia and failing memory. It is sometimes used in meditation and hypnosis to help travel back to one's roots and find that inner self.
I

is also for Inspiration.
Craft artists garner much inspiration from what we see around us. Like many fellow artisans, I find nature, in particularly the sea, generates creativity and ideas. You will find evidence of this in previous
posts under the tag '
I

nspiration
'. Or why not pop into the blog section
'

I

nspiring Walks'
if you are in Ireland (especially Dublin) or planning a trip and want to get inspired by our lush countryside too.
Though I buy some stones and
findings
from the UK and beyond,
I
rish materials feature prominently in my jewellery. The most well known is
Connemara marble
but our other rare marbles, such as
Cork Red
and the fossilised
Kilkenny black
are just as ancient and special.
I also use
sea glass
and
sea pottery
plucked from local shores. Though these may sometimes have originated as imported bottles, vases, crockery, tile etc, generally speaking, sea glass and pottery usually would have fallen into the sea locally or within a short radius. Rarely do these pieces travel across the ocean from distant shores.
As well as Irish glass and pottery we do find a lot of English china and European terracotta quite simply because these would have been commonly found in households of a busy port like Dublin. The English specimen on the left was found on the same Dublin beach as the Irish,
Arklow Pottery shard
on the right. As they have been buffed for decades by the Irish sea and were found right here, in my heart they are both local materials.
Iron ore, also known as hematite
I
ron ore is also known as Hematite. This mineral was already covered under
the letter H.
If you'd like to read more in this series, please see the links below