We're at the Letter
D
in my
ABC series
(a not so comprehensive guide to jewellery materials, tools and techniques I use)
D
is for
D
ruzy,
D
ownton-esque and
D
esign.
Druse crust on white quartz, own photo
D
ruse,
or
D
ruzy, is a natural crusty layer of crystal formation on top of the fracture surface of a rock. It most commonly occurs on agate, malachite, quartz, chalcedony, or turquoise. This pretty piece is white quartz. The formation of tiny crystals occurs when ground water carrying dissolved silica gets forced into the porous gaps in a rock then cools rapidly.
The stone does not glow like it appears here all the time, but does catch the light beautifully as you move it about.
Metaphysically, this stone is associated with banishment of negative thoughts, said to help you through worrisome or negative times. In Feng Shui is it believed to bring light and life into a dark corner.
This egg-shaped stone will make a beautiful piece of bridal jewellery or a pretty First Holy Communion gift, most likely a pendant. As yet I haven't decided how to approach the design but am leaning towards treating it like a piece of
sea glass.
I have developed my own, light and free style of wire wrapping
sea glass and sea pottery
that shows off the beauty of the material while making a neat and pretty feature of the wire itself without too much fuss. Above are examples of my sea glass wrapping (the second pendant,
Zest,
is still available.) I'm pretty sure I can adapt my technique to show off the druse quite easily. In fact, the crusty nature of the rock will probably require less wire on the front to 'stick'.
D
is also for
D
ownton-esque...a made up term yes, but lovers of Downton Abbey will know what I mean. If you love the TV series as much as I do, you will probably also be madly in love with the early 20th century style and fashion. So far covering the period between the sinking of the Titanic in 1912 to post war twenties, we get to follow the changes in style from Edwardian through Art Deco and Great Gatsby-like glam.
I don't religiously copy the jewellery of the era but draw on it to inspire modern designs that capture the essence of the period. I am not a fan of diamonte, a 'D' not found in my glossary, preferring to garner a more subtle sparkle from gemstones and crystal. The above earrings left to right are '
Roaring Twenties'
made with freshwater pearl and glass,
'Midnight in Dublin
' with Onyx and chain and
'Ballroom'
with clear quartz crystal with a hint of lacquered enamel.
'Cora' earrings
are my current favourite. I used a combination of rounds, bicones and cones to evoke the angles and geometry of the Art Deco (post Edwardian) movement.
**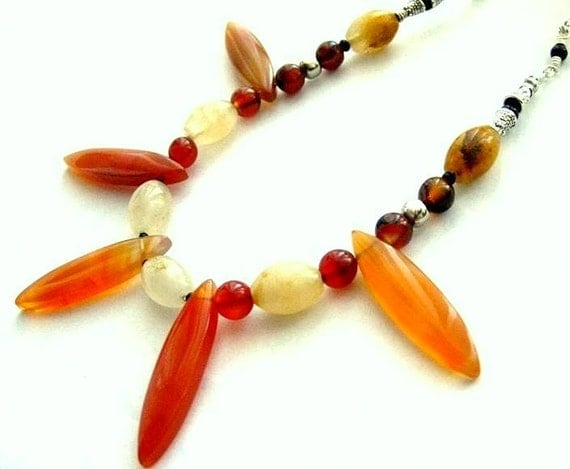 Red gemstone fan necklace
D
is of course for
D
esign. There are two entirely different ways in which I approach design. The first is the more usual, structured method, familiar to methodical artists. The second, is free style and organic.
Sometimes, particularly when combining gemstones and other beads, I will sketch a few ideas first before drawing the blueprint and laying out the components so I can see where I'm heading. Preliminary sketches are particularly useful with custom orders, where I must interpret someone else's wishes into something workable.
When it comes to wire wrapping sea glass and sea pottery I much prefer to let the shape, curves, dips and crests of the nugget dictate the way to go. I am often completely surprised by the end result so I find this method more fun.
This is where I drop the letter D. Back soon with the next in the series....
*** *** ***